Factsheet:
Developer:
Olli-Samuli Lehmus
Based in Vantaa, Finland
Description:
Fight your way through multiple environments filled with traps and obstacles, each more dangerous and deadly than the last. Shoot bullets and throw grenades at your enemies while releasing prisoners from their cages. You are the hero this evil-filled world needs.
GunHero is a 2D-action-platformer-shooter filled with handcrafted levels set in various environments, where each one contains its own unique dangers. Your task is simple: save the world from the evil Count Darkcape.
Shoot your way through enemy troops, pick up weapons from your dead foes, yield destruction with your grenades and become victorious with the help of your shield! But don't forget about the prisoners and hostages that desperately need your help!
Watch out for the deadly traps and obstacles! Spike balls are much harder to dodge than you'd think, and is there anything more dangerous than a huge blade? Well, maybe a spinning laser beam, or a missile launcher. You can travel on rotating and moving platforms, climb ladders or fly using the large propellers. Just don't get trapped on the roof of an elevator as death by getting crushed between an elevator and a wall is not a pleasant death.
Having trouble? Could the world maybe use a few heroes more? Just invite a few of your favorite friends over for some good old-fashioned couch co-op! Enemies won't stand a chance against you.
Features:
Over 100 handcrafted levels set in five different environments
Multiple weapons to choose from
Grenades and explosions
Loot, health and ammo boxes to help you
Fast, satisfying combat with permanent blood decals
Multiple enemy types, including generals, bazooka men and grenadiers
Laser beams, elevators and missile launchers
Awesome and intense boss fights
Double jumping and ladder climbing
Powerup shield to block incoming damage
Propellers, blade spinners and tanks
Ferris wheels, lava and spike balls
Flame traps, trampolines and fireball cannons
Cool world map to help track your progress
Achievements and cloud saves
Difficulty settings to match your skill level
Couch co-op with friends
Keyboard and mouse support
Game controller support
Fully remappable controls
Trailer:
Screenshots:
Logos: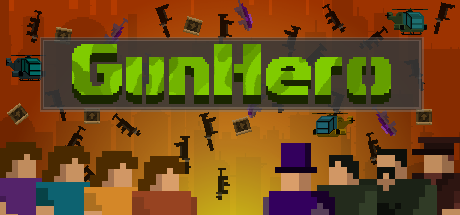 Download All Images as .zip
Press Copy:
Write me an email and I'll get back to you:
About Olli-Samuli Lehmus:
Olli-Samuli Lehmus is a Finnish hobbyist game-developer born in 1998. GunHero is Olli-Samuli's first commercial game project.
Contact:
Twitter: twitter.com/tyyppi_77
Website: gunherogame.com
IndieDB: indiedb.com/games/gunhero